We invite you to participate in the "Multiplier Event" (dissemination day) of our DIPCE international Project.
"Digital and inclusive pedagogical competencies of Educators in the XXIst century"
The event will take place on 9 May 2023, at the Faculty of Education – U. Complutense de Madrid (Rector Royo Villanova, 1, 28040 Madrid), Room 2006 (Hiperaula).
You can freely participate in person or in a virtual way to one of the sessions, but you must register in advance via https://forms.gle/9q4hAYnKJ4CyuhB48 .
For virtual participation we will use a videoconference connection (TEAMS):
– Morning session: https://teams.microsoft.com/l/meetup-join/19%3aYZp_6a20-0tF1TK8obBNvLA_845H1V-pHkdicciIJR41%40thread.tacv2/1682610300664?context=%7b%22Tid%22%3a%222b079dc7-e2ea-45bc-9182-0fde14b549b1%22%2c%22Oid%22%3a%22de455fe1-8369-45b3-a2f8-c794f7cb951a%22%7d
– Afternoon session: https://teams.microsoft.com/l/meetup-join/19%3aYZp_6a20-0tF1TK8obBNvLA_845H1V-pHkdicciIJR41%40thread.tacv2/1682611216163?context=%7b%22Tid%22%3a%222b079dc7-e2ea-45bc-9182-0fde14b549b1%22%2c%22Oid%22%3a%22de455fe1-8369-45b3-a2f8-c794f7cb951a%22%7d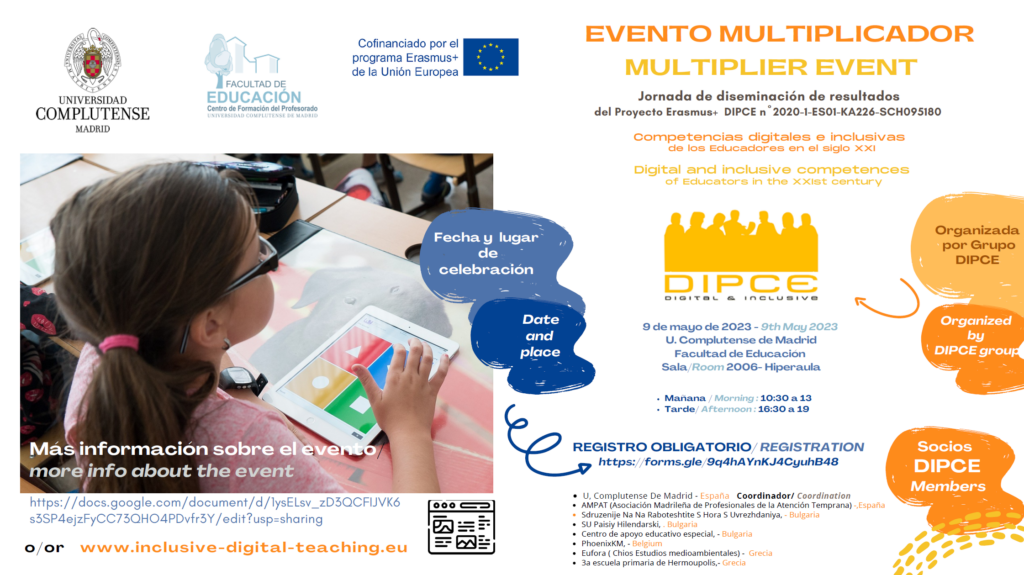 The agenda is as following: